Santa Parade & Food Drive 2017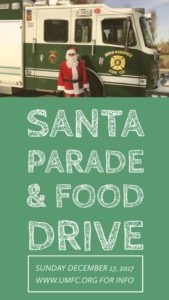 HERE COMES SANTA … On Sunday December 17th  2017 … RAIN, SNOW, SLEET or SHINE … SANTA Will Be Touring A Majority Of Upper Makefield Township ..SANTA Will Begin His Tour At Approx 10:00am and Will Return To The Taylorsville Road Firehouse For Pictures Between 6:30pm & 7:30pm.
UMFC Will Be Also Hosting A Food Drive and Collecting Non-Perishable Food for the Penndel Food Pantry.  The Penndel Food Pantry Is In Desperate Need Of Canned and Boxed Food Items Which Should Be In Date and Undamaged, Please No Glass Containers.
Donations Are Being Accepted At The Taylorsville Road Firehouse Between 10am and 4pm Or During The SANTA Photo Time From 6:30pm to 8pm.  Everyone who stops at the firehouse and donates Towards The Food Drive Will Receive A Raffle Ticket For A Chance To Win A $100 Gift Card .  The Drawing For The Gift Card Will Be Immediately Following The Picture Time.
UMFC Firefighters will also be collecting during the parade route.  If you are going to donate to the food drive while we are on the parade route Please flag the trucks down and give the food to the truck following SANTA.
Feel free to share any pictures you take of the parade by emailing the Fire Company at Santa@umfc.org or tagging our Facebook page .. Thank you
Congratulations to Ed and Jane Burger for winning the $100 gift card.  Thank you for " Giving it forward" and donating the card to the UM Police Department's "Family in need".
At the January Monthly Meeting – The Kiwanis of Wahington Crossing & Yardley gave UMFC a Generous Donation and $500 worth of food for the food drive. 
Thanks to all the Generous Donations – UMFC was able to Deliver 1800 pounds of non-perishable food and baby supplies to the Penndel Food Pantry on Tuesday January 9th, 2018
~~~~~~~~~~~~~~~~~~~~~~~~~~~~~~~~~~~~~~~~~~~~~~~~~~~~~~~~~~~~~~~~~~~~~~~~~~
UMFC Would like to Thank the following Businesses for sponsoring the 2017 Santa Parade
Agostino Gourmet Foods – Bristol, PA
BACA – Bikers Against Child Abuse – Bucks County
CCNS (Crossing Cooperative Nursery School) – Washington Crossing, PA
Colonial Farms Gourmet Items & Specialty Foods – Washington Crossing, PA
Creative Screen Printing and Embroidery – Washington Crossing, PA
Dominick's Pizza – Washington Crossing, PA
Dunkin' Donuts – Washington Crossing, PA
First National Bank and Trust Company of Newtown – Washington Crossing Branch
Gabriel's II Pizzeria -Washington Crossing, PA
Harris Paving – Washington Crossing, PA
Heritage Pharmacy – Washington Crossing, PA
Keller Williams, Tim Guirdy Agent – Washington Crossing, PA
Ken's Pit Stop Inc. – Washington Crossing & Abington, PA
King's Indian Head Farm – Newtown, PA
Kiwanis Organization – Yardley / Washington Crossing, PA Chapter
M & M Auto Body – Washington Crossing, PA
Nothing bundt Cakes Newtown – Newtown, PA
Patriot FC Soccer Club – Upper Makefield
Ries Video Productions – Washington Crossing, PA
Seasons Garden Center – Washington Crossing, PA
Ship Shape Health and Fitness – Washington Crossing, PA
Skerdlandt's Auto – Washington Crossing, PA
St. Mary Medical Center Emergency Services – Upper Makefield
Surround Cycle Indoor Cycling & Fitness Studio – Newtown, PA
Tastefully Simple – Jackie Pitkow, Representative
Washington Crossing Inn – Washington Crossing, PA