October 2016 – Fire Prevention Open House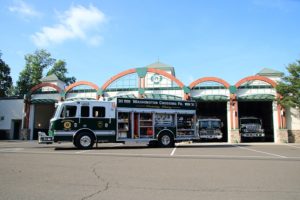 Don't Wait – Check the Date! Replace Smoke Alarms Every 10 Years
The key message of this year's Fire Prevention Week campaign, October 9-15, is on smoke alarms for the third year in a row! The reason for this is because NFPA's survey data shows that the public has many misconceptions about smoke alarms, which may put them at increased risk in the event of a home fire. For example, only a small percentage of people know how old their smoke alarms are, or how often they need to be replaced.
As a result of those and related findings, we're addressing smoke alarm replacement this year with a focus on these key messages:
Smoke alarms should be replaced every 10 years.
Make sure you know how old all the smoke alarms are in your home.
To find out how old a smoke alarm is, look at the date of manufacture on the back of the alarm; the alarm should be replaced 10 years from that date.
As part of Fire Prevention Week, The Upper Makefield Fire Company will hold their annual Fire Prevention Open House on Friday October 14, 2016 from 6:30pm to 9pm at the Main Firehouse located at 1221 Taylorsville Road in Washington Crossing.  There will be a scavenger hunt and games for the children with winners getting prizes.  Meet your Volunteer Firefighters and talk to them about what it takes to be a Volunteer and how the Fire Company works.  Also, see what you can do to help out and make your community better.  Take a tour of the Firehouse and pick up information on Fire Prevention and other safety tips.  There will be static displays of all Upper Makefield Fire Apparatus along with an Upper Makefield Police Car and The St. Mary Ambulance.  Any questions either email info@umfc.org or call the firehouse at 215-493-5200.
CONGRATS to HANNA S. (1st place winner), WADE R.(2nd place Winner) & KATE F. (3rd place Winner) of our 2016 Scavenger Hunt !!