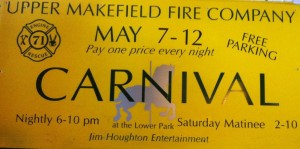 The Carnival is Coming to Town !!! The Upper Makefield Fire Company will be hosting it's annual Carnival starting Monday May 7th through Saturday May 12th with Jim Houghton Enterprises.  The Carnival will be open nightly from 6pm to 10pm and on Saturday from 2pm to 10pm.  Every Day is "Family Day" .. Ride all the rides for one low price. 
Visit http://wwwjimhaughtonenterprises.com  The carnival is located on Rt 32 just south of Rt 532 across from the Washington Crossing Post Office.  For more information email Postmaster@umfc.org
Make sure you stop by the Upper Makefield Firefighters Food Tent for some of the best food on the midway.  The food served in the firefighters tent comes from local vendors such as Ely Pork Products & Agostino Meats, both located here in Bucks County.  The proceeds from the Firefighters Food Tent goes 100% towards the Upper Makefield Fire Company. 
The Upper Makefield Fire Company would like to thank the following businesses, with out their Donations the carnival would not be as successful as it is.  
Ely Pork Products – www.elyporkproducts.com 
Agostino Foods – www.agostinofoods.com
Dominicks Pizza – www.trentonstyle.com
Media Camping – www.mediacamping.com