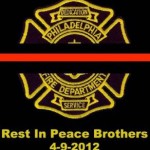 The Officer's and Members of UMFC offer our deepest sympathies to our brothers in the Philadelphia Fire Department who died in the Line of Duty this morning … May they rest in peace.
 Lt. Robert Neary and FF Daniel Sweeney, assigned to Ladder 10 on the C platoon, died in the line of duty in the early morning hours of Monday, April 9th while battling a 5-alarm warehouse inferno in the Kensington section of Philadelphia.
Lt. Robert Neary had 38 years with the department. He had been a Lieutenant since 1983. He was awarded four unit citations in his career. Before joining the fire department, he was a Philadelphia Police officer for three years and served as an Army reservist for 10 years, attaining the rank of Sergeant 1st Class. Lt. Robert Neary leaves behind his wife, Diane, and their three children.
Firefighter Daniel Sweeney followed in the footsteps of his father, Captain David Sweeney (Ret.), and joined the Philadelphia Fire Department in July of 2006. He had been stationed at Ladder 10 since 2007. Daniel was awarded two unit citations in his career.  Daniel was also a Part-time Paramedic in Bucks County.  He was the loving son of his parents, David and Marian Sweeney 
This fierce, wind-driven warehouse fire also seriously injured two other firefighters, FF Francis Chaney and FF Pat Nally. Both members are currently being treated at Temple University Hospital. FF Nally is a five-year veteran and is currently in critical but stable condition. FF Chaney is an eight-year veteran of the Philadelphia Fire Department and is currently admitted in stable condition. 
Please keep all of our fallen and injured brothers and their families in your thoughts and prayers. We will update you further as more details emerge. We thank you for your compassion and support during this difficult time.